Business Automation Center@Hotel Site



The Business Automation Center@Hotel is a 24-7 Guest Friendly, Self- Serve, business center designed to meet the needs of business traveler. Here are just a few reasons why Hotel selects Business Automated Center.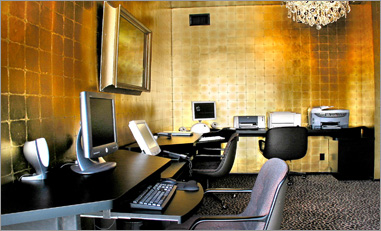 Business Automation Center @ Standard Hotel

The 'Haute Couture' of Automated Business Center developed by the design staff of the Standard Hotel and Logiclink to showcase the full range of automation equipment and state of the art furniture.


Easy to use Touch Screen Monitor.
Easy to support name Brand Equipment.
Multi-user environment allows no waiting time for guests thus maximizing revenue for hotel.
Multi-lingual guest interface including English, Chinese, Spanish and Japanese.
Business Center Presentation with "Designer Furniture" to match existing decor.
24 / 7 Live Customer Support with instant credit card monitoring, reporting, and crediting.